Ocean Kiss Booster 100gm
Pet Supplement And Care --- Ocean Kiss ---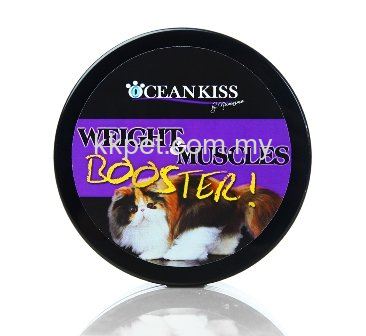 OCEANKISS WEIGHT & MUSCLES BOOSTER!
OCEANKISS Weight & Muscles Booster is a supplement for fast weight gain, strengthen the muscles and structural intergrity, contains high quality nutrients which are easily digested and can be maximum absorbent. Suitable for pets that wants to gain weight and build muscles of maximum availability of the contest, pets that have anorexia, less eaten, hardly fat or thin pet, sick or recovering from illness. You will be able to see changes within a few weeks.
High quality pure protein supplement And high concentration for pets. Rich in protein, calcium carbo hydrate drive and other useful nutrients. Many help in growth. Smooth muscle and strengthen an atmosphere. A source of amino acids, the quality and completeness. Necessary to optimize muscle building and strength. Infosys and appetite.
nutrients are absorbed quickly. And most effective Singles who want to gain weight. Strengthen muscles and develop structures, to complete quickly. Such animals to fit in the contest. Or the patients to recover fast. Animals anorexia Eat less skinny, etc.
Sprinkle or mix with divided daily meals, diet pills, wet food, milk or water to get on a daily basis without harm.
1/4 cup for pets weighing less than 5 kg,
1/2 tablespoon for pets weighing 5-15 kg
2/3 tablespoons for pets weighing 15-25 kg
1 tablespoon for Pets Weight 25. kg up to 100 g Packing